I decide to attend a session with one speaker – hoping that will allow us to dig a bit deeper than in the sessions with 3 speakers.. Geoff Stead is from Qualcomm – who make the chips in our phones – and will work with us on Enterprise Mobile Learning. Qualcomm is an organization with 31.000 employees.
Four things for today!
Guerilla learners
Moving to mobile
App stores for learning
New tools new tricks
Guerilla learners
These are the people who don't have the patience to wait for L&D activities, they solve their own issues and find their way. The room recognizes these people. Currently they are not well served by L&D. They go to Google, use their LinkedIn groups and social networks. The guerilla learners and self-conscience, already mobile. See the graph about the modern learner below.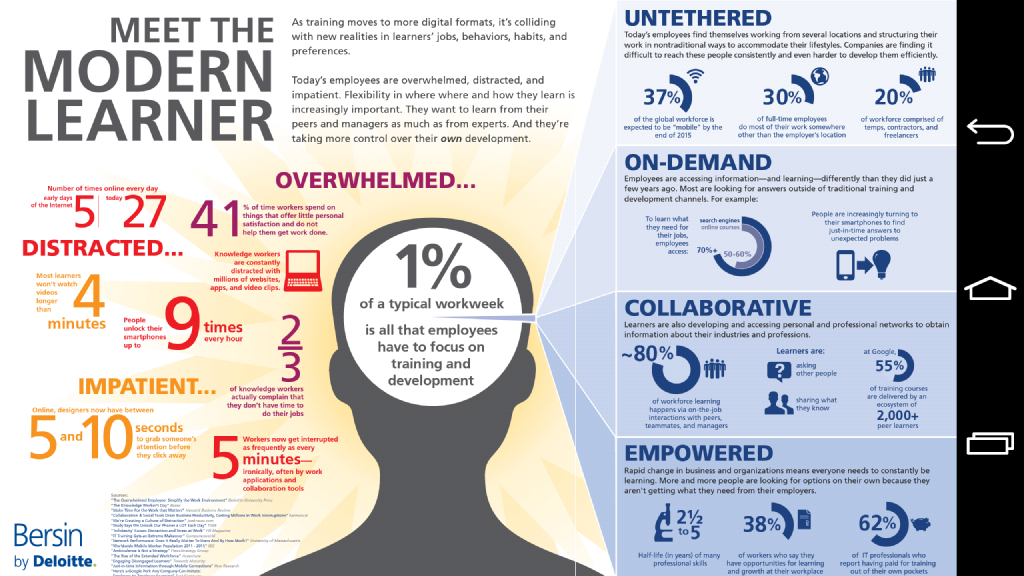 Moving to mobile
In Qualcomm content evolves very rapidly. "We used to teach aging things". Qualcomm adopted BYOD (bring your own device) and new generations of employees and coming onboard. All these changes make it harder for L&D to keep up. The outreach of Qualcomm has shifted – elearning which does not work on mobile has been eliminated, so elearning has to be multi-device by definition. Shift from longer training sessions to smaller sessions with domain experts. When we talk about mobile learning we don't talk about the older courses squeezed onto mobile devices. "Think beyond courses".  The things people do on their phones is part of learning.
There are two approaches basically:
the approach of the Swiss army knife – there is one platform you go to with many functionalities
the approach of the toolbox – a distributed set of tools
Developing your own appstore
If you have an app developed it doesn't really scale. Hence Qualcomm has developed its own appstore.It is important that apps in the store can be available through single sign-on to make it easy to access them. In the employee app store there is a wide variety of apps. Examples are compliance apps, video learning apps, performance support apps, games, performance support, social learning apps. It is up to the room to choose! The most popular game is flappybird which is just for fun… however, this helped to get people into the appstore. A more serious game is a car racing game. It helps to learn cultural things about the company. In the videolearning app there is the Lynda app, and a subscription for the whole organization was negotiated, half of the employees have used Lynda. Some apps were developed for Qualcomm. An example of social learning is Pathgather- a sort of internal Facebook where you can create paths. About 50% of learning is via mobile, yet their are also face-to-face trainers, or employees may go to an external training.
The most popular app is the map app, called Qmaps, which uses Google maps with a layer of data. QC Lingo is a company jargon learning app. In California every manager has to take two hours sexual harassment training. It doesn't matter whether you learned anything as long as it is two hours long… :). It is now offered on mobile which is a huge success. There is another app with the faces of the top 15% people. Another example is Qspeaks to learn business phrases in languages, like mandarin, which is actually made by Chinese colleagues in the company.
Obstacles for mobile learning 
Organizations haven't gone far with mobile learning. In groups we discussed obstacles for mobile learning in organizations. Some of the issues experienced are:
security issues – when the IT department doesn't approve because they can't put it behind the firewall
infrastructure – people need smartphone or ipads
cultural and generational issues – different generations and have different aptitudes and ideas about mobile learning
The largest obstacle is plumbing – the systems don't easily work together. Geoff offers some Barrier-Busting approaches (I like that word!) like start small, with a small budget and grow into success; security models may need to be revisited; start new partnerships with IT- departments, in Qualcomm there is huge interest to go jointly into mobile. The new model for security goes from high via medium to low and NONE. Then you have to make smart decisions about what should go where.
New tools – old tricks or new tricks?
Think: What can mobile offer we can't do at the moment? Knowing where people are.. iBeacon is a way of figuring out where you are in a store. This is an example of indoor positioning. Qualcomm developed an app for a museum sensing where you are and giving you information. Think augmented reality too with examples like hollow lens, word lens, etc. The photo booth is fun – it allows you to take a picture with a celebrity (fake) and very popular in South-East Asia. It is not the old serious learning – but it is helping employees to get excited about the app store.
Want to browse more? You can visit worklearnmobile.org